As people's living standards improved, the requirement of water quality has been improved, in order to reduce the number of purchase,

often buy a whole box of drinking water or drink, however, in handling a lot of time on the way encounter, the plastic is broken, and lead to scattered,

very angry, thus bring inconvenience, so xinmao drink machinery in making membrane machine equipment has its own research team, do it,

no matter what is your packaging container, we all have the confidence to make you satisfied, then we have to say xinmao L membrane charter flights.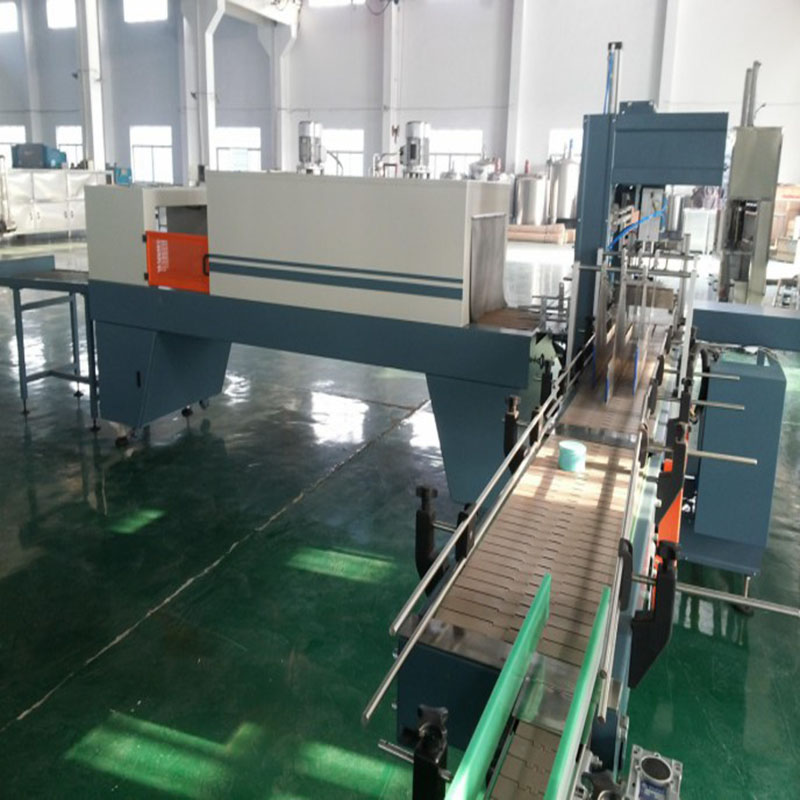 I.equipment profile: high quality carbon steel, some of the stainless steel.
II. Equipment structure and characteristics:
1, The film sealing machine adopts advanced structure of heat sealing, sealing is firm, the edge is neat, and the sealing performance is good.
This structure consumes little power, the sealing is firm, uniform and beautiful.
2, The sealing and cutting main body is driven by cylinder, with guide posts at both ends, which can ensure the stability and reliability of sealing and cutting film.
3, Special protection function, when there are obstacles in the sealing and cutting, the equipment will be protected, and the alarm will be given
to prevent the packaging from being damaged.
4, The conveying groove adopts the form of plastic steel chain network, which is not deformed after long-term use and stable conveying.
5, Subcontracting mechanism, subcontracting accurate, stable, convenient adjustment.
6, The heating part is made of high quality stainless steel heat sink, which has stable and uniform thermal energy divergence and long service life.
7, Set PID temperature controller, the temperature control is accurate and energy saving.
8, Shrinking machine adopts hot air diversion circulation system, air flow can be adjusted, natural recovery of heat energy, special furnace structure can not only achieve good packaging effect, but also play the best role in energy saving.Ensure high speed packaging good shrinkage effect and stability.
9, special insulation structure, can not only play the effect of energy saving, but also to ensure the safety of workers.
10, The equipment through the automatic control system, the production process is stable and reliable, can adapt to long time work without shutdown.
At the same time, we also have good warranty and after-sales service
1. After the acceptance of the equipment, 12-month warranty is provided, and the control system is provided with 12-month warranty. Free parts are provided and timely and effective services are provided.Equipment failure, after receiving user information, maintenance personnel within 24-48 hours to arrive at the site, timely troubleshooting.
2. After the warranty period, provide a wide range of preferential technical support and after-sales service for life.