Beer bottling equipment is mainly used for the production of various types of beer, cocktails, gas-containing beverages (carbonated drinks), etc.Such as beer, Coca-Cola, Fanta. Beer bottling machine is a three-in-one filling production line, which realizes bottle washing, filling and capping on one machine. Filling cylinders, filling valves and other parts that are in direct contact with materials are made of high-quality stainless steel or non-toxic materials, which meets food hygiene requirements.Automatic beer filling machine makes better use of the safety and sanitation of glass bottles, has good corrosion resistance and acid corrosion resistance, so that the whole process of filling is produced aseptically, and the nutrition of the drink is better preserved.
Beer Bottling Machine Features:
1. The filling cylinder, filling valve and other parts that are in direct contact with the material are made of high-quality stainless steel or non-toxic materials, which meet the food hygiene requirements.
2. The beer bottling machine adopts a PCL programmable controller, which realizes the automatic control from the bottle entering the machine to the completion of the packaging. The frequency conversion speed control is adopted, which is easy for users to adjust and adjust, and meets the requirements of different processes for production capacity.
3.The seal is made of heat-resistant rubber, which meets the user's high temperature sterilization process requirements.
4. The automatic beer machine adopts the principle of equal pressure filling and the popular spring valve to ensure the quality of the beverage.
5. The automatic beer bottling machine adopts an advanced magnetic clutch to adjust the capping torque device to ensure the capping quality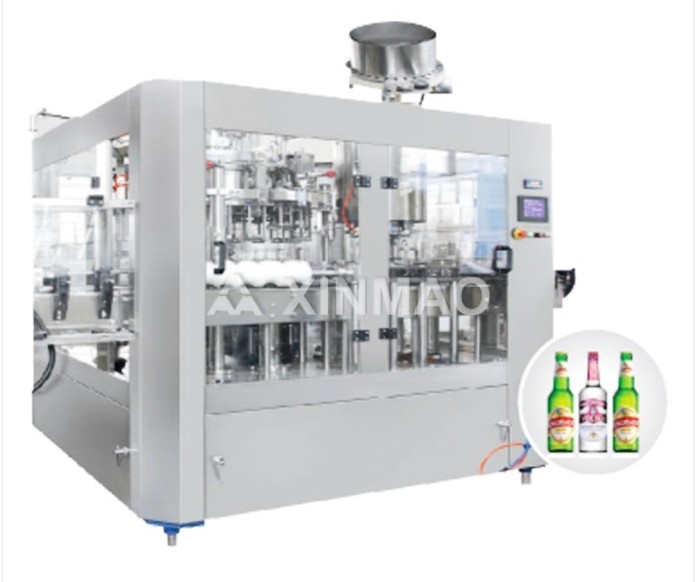 Beer Bottling Equipment Detail:
Filling Part:
1.304/316 Stainless steel high precision filling nozzle
2.Filling volume adjustable in fine rank, same liquid level after filling
3.All 304/316 stainless steel contact parts & liquid tank, fine polish, no death corner, easy to clean
4.304/316 stainless steel filling pump
5.Efficient spray nozzle rinse thoroughly and save water for flushing
Washing Part:
1.Into bottle way is belt conveyor through the bottle dividing screw
2.All 304/316 stainless steel rinse heads, water spray style inject design, more save water consumption and more clean
3.304/316 Stainless steel Gripper with plastic pad, ensure minimal bottle crash during washing
4.304/316 stainless steel washing pump make the machine more durable
Capping Part:
1.Place and capping system, electromagnetic capping heads, with burden discharge function, make sure minimum bottle crash during capping
2. All 304/316 stainless steel construction
3. No bottle no capping
4. Automatic stop when lack of bottle
5.Capping effect is stable and reliable ,Defective rate ≤0.2%
Xinmao Drink Machinery as the beverage filling machine manufacturers,we specialized in producing bottle filling machine & liquid filling machine manufacturing. Liquor filling machine involves all alcohols on the market, for example, white wine, rice wine, wine, beer, according to the bottle type and lid material, divided into many models. Parts in contact with materials are made of high-quality stainless steel, no process dead corners, easy to clean; high-speed filling valve, accurate liquid level and no liquid damage, to ensure filling process requirements.